According to a study conducted by BrightEdge, 53.3% of website traffic comes from  organic search. Meaning that business owners and digital marketers have a strong incentive to optimize their website content for search engines.
People invest time to learn SEO best practices and tips. But sometimes those facts turn out to be just SEO myths.
We have compiled a list of 9 "facts" that aren't actually true and might hurt your long-term SEO strategy if you keep on believing in them.
1. You can't beat well-established websites in SEO
New businesses sometimes feel disappointed about SEO even before trying anything out. They think it doesn't make sense to invest in it as it's too hard, time-consuming and even impossible to outrank existing websites. Well, this is a case when you will be happy to know that you are not right.
Anthony Martin, Owner and CEO at Choice Mutual says that small companies can easily capture #1 rankings for thousands of long-tail keywords even when competing against large established sites. Long-tail keywords are very easy to rank for because of how specific they are.
There are also tons of examples of lower DA sites outranking high DA sites because their content is superior. So, you can beat the big guys by producing a better piece of content or one that targets phrases with 3 or more words.
2. It takes at least 6 months for a new website to see results from SEO
Another version of this myth is that Google gives priority to old websites and ranks them at higher positions. In reality, domain age affects SEO only indirectly.
Old websites will rank better if they have worked on their content and backlink profile month over month and gained advantages over younger websites. That's all. If the domain is old but no one has poured energy into SEO-optimizing it, the website doesn't have much value for search engines.
Neil Andrew, Founder at PPC Protect says that whilst link building isn't instant and does take time, on-page changes can show results as quickly as a few days. Large scale link building campaigns should take no more than 2-3 months at most to start seeing some movement.
3. SEO is all about link building
First, you can't cheat Google with massive amounts of spam links from blog comments, farm links and PBN (Private Blog Networks).
When people use third-party tools to analyze competitor backlinks, sometimes they focus purely on numbers. They fail to pay attention to the quality of backlinks as quantity isn't always enough for success.
Then, even if your backlink profile is perfect, there are still areas where you need to make improvements. Those areas include the mobile-friendliness of your website, its security, site architecture, etc.
4. Google ads impact organic search rankings
When you run Google search ads, your website appears on Google's first page for certain keywords and outranks organic results. That's true. But once you stop paying Google and turn off your ads, you will rank according to your website's quality and reputation.
Regardless of the ad budget or campaign duration, ads work separately from SEO and don't reward you with high organic positions.
Google Ads or any other quality traffic can only indirectly help SEO with additional links and citations that these users will spread around, or by other actions these people will take. But people mostly forget one of the main rules of SEO – "Correlation doesn't mean Causation".
5. Google algorithms can penalize for duplicate content
Though algorithmic penalties exist (not officially), they are different from manual action-based penalties. While not everyone calls them penalties, they are, in essence when Google devalues a site's "trust" or sees it as less quality that may result in sharp decline in rankings and organic traffic. And NO, Google won't penalize your website if it contains duplicate content.
What the algorithm does is understanding that the same content exists on 1+ websites and not showing all of them. It's a simple way of following guidelines and not bothering the searchers with the same information at the same time.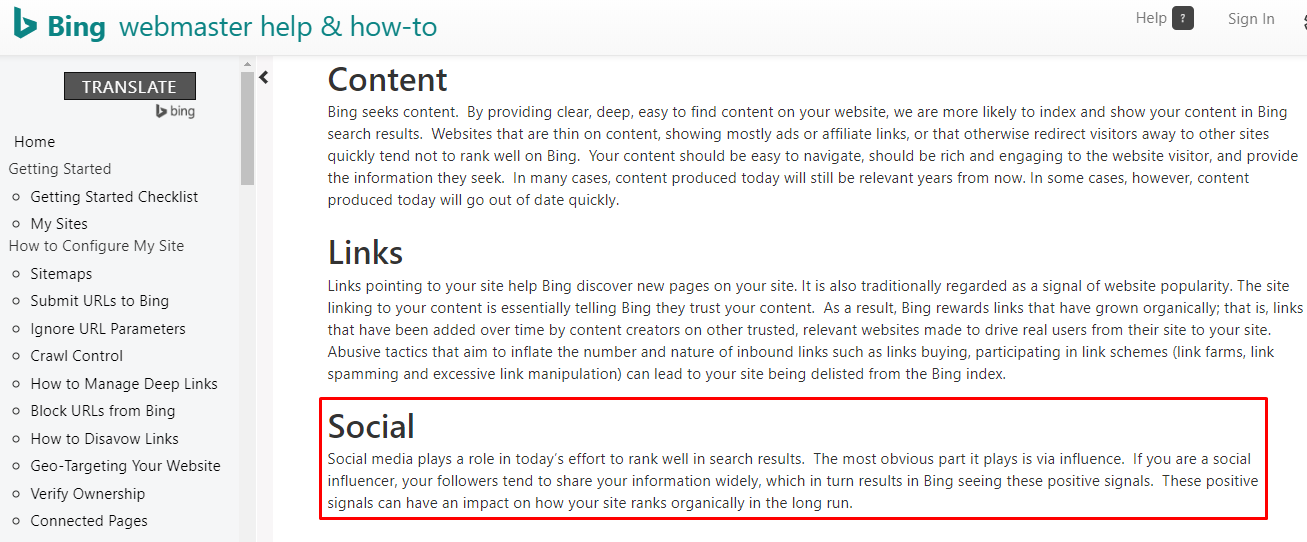 6. Google has its own website authority score
Long time ago Google was using "toolbar Pagerank" to show the score of your website, but those days are long gone. The company still actively uses PageRank in its algorith but it's not public and shouldn't in any way be confused with Ahrefs Domain Ranking, Moz Domain Authority (DA), etc.
While DA (domain authority) and DR (Domain Rating) are the most common metrics for evaluating a website's overall reputation, they aren't official ranking factors. Nor any of them is a term suggested by Google.
In fact, DA has been developed by Moz, an SEO software. And DR is something Ahrefs – another SEO toolset – uses to show how strong is that particular website's backlink profile.
7. Translated pages will automatically rank well if your site does
Nowadays many websites, both eCommerce and service-based (e.g. SaaS) translate their websites into the languages of their target customers. Usually they subscribe to a translation plugin which indexes the translated pages. But indexing isn't everything.
Though your website may be high-quality with relevant backlinks, you need to build backlinks for the translated pages as well. Besides, machines probably won't do an SEO translation for you, so you will need to take care of translated keywords as well.
8. Keywords don't matter anymore
"Focus on the topic rather than keywords because Google ranks pages based on the context not keywords." This is approximately what you will be recommended to do as Google gets smarter and learns to evaluate content quality more accurately.
But keywords do matter! Instead of leaving behind keyword research tools, you should find different ways to express similar meanings, use synonyms and semantically-related (interconnected) keywords.
9. SEO is dead
SEO rules change, evolve, become more user-focused but they don't lose their value. Oppositely, the smarter machines get, the better they help searchers and put the most relevant search results in front of them.
Can you imagine a day when people won't be feeling a need in products, services, information? You should also not believe that search engines one day will become useless and stop offering solutions.
Now Google is receiving 228 million searches per hour! And this number is going only to increase in the upcoming years.
Wrapping up
This was our list of 9 SEO facts and myths for you. Search engine algorithms will change but one thing will remain certain: content quality should be your #1 focus! Even word count, number of backlinks might not affect SEO provided you offer really comprehensive, well-researched content that keeps visitor interests in mind.
If you are looking for an experienced and reliable agency who will take care of your organic rankings, reach out to the Andava team. We will conduct a free website audit for your website and come up with practical, personalized SEO recommendations.