According to 99firms, 77% of internet users read blogs regularly. This number is proof that blogging is a big thing and you need to run one to grow your audience.
But in your way to publishing blog content, you might be making some of these dreadful mistakes:
Not writing on a specific group of topics
Not adding a CTA at the end of blog posts
Writing without SEO in mind
Not having a recognizable writing style
Not adding visual elements to blog posts
Creating poor headlines
Not improving blog post readability
If you want to know why these blogging mistakes are worth your attention and how to avoid them, keep reading!
7 common blogging mistakes to avoid if you want to grow your audience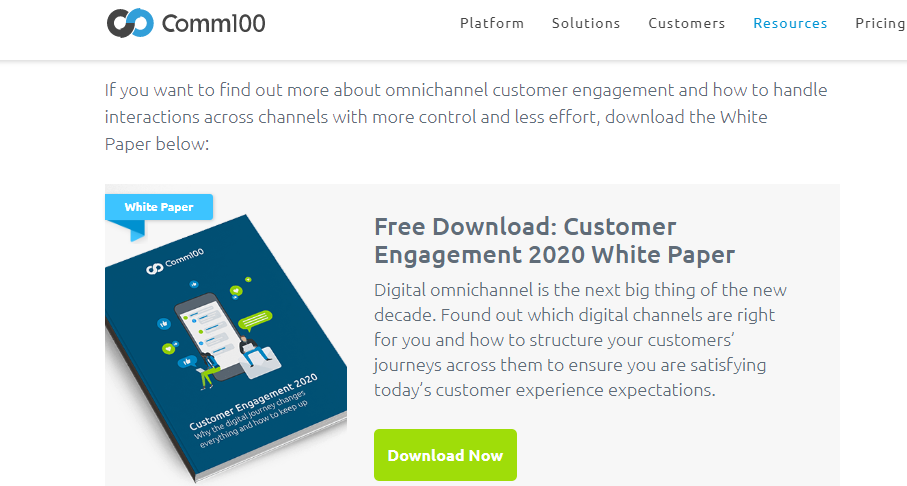 1. Not writing on a specific group of topics
The more specific niche you pick for your blog, the easier is it to satisfy your visitor needs and build your authority.
If your blog covers topics from travel to social media to beauty, that's a good reason for visitors not to trust you. Besides, Google will be confused about what's your blog is actually about and not regard it as authoritative.
But there's a better and simpler way to go! Write on topics that relate to your products or services. For example, if you offer a project management tool, you may cover topics on
team productivity,
types of project management,
team collaboration techniques, etc.
You may also consider writing on new feature releases, team achievements, etc. But your focus should be on educational content and on a specific topic (or group of topics).
2. Not adding a CTA at the end of blog posts
You might be familiar with the term "content upgrade". It's the lead magnet that's relevant to your post topic and you add it at the end of that specific blog post. Thus, you offer your reader to submit his/her contact details and download it.
Note that you shouldn't have one single lead magnet for all your blog posts. Let's look at an example.
Comm100 runs a blog on customer engagement via live chat, chatbots, etc. One of their blog posts is on the difference between omnichannel vs multichannel customer service. At the end of this post, you will find a content upgrade on a similar topic: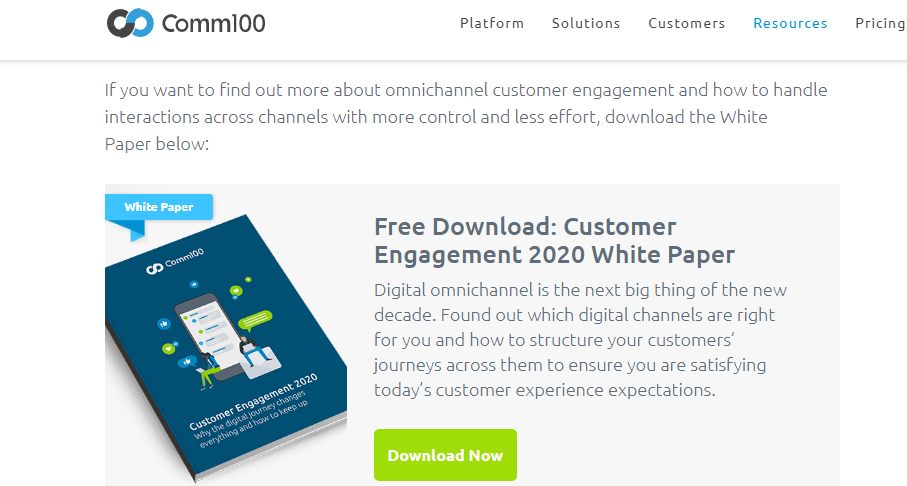 But when you read about KPIs that live chat managers need to track, you find another content upgrade in the end: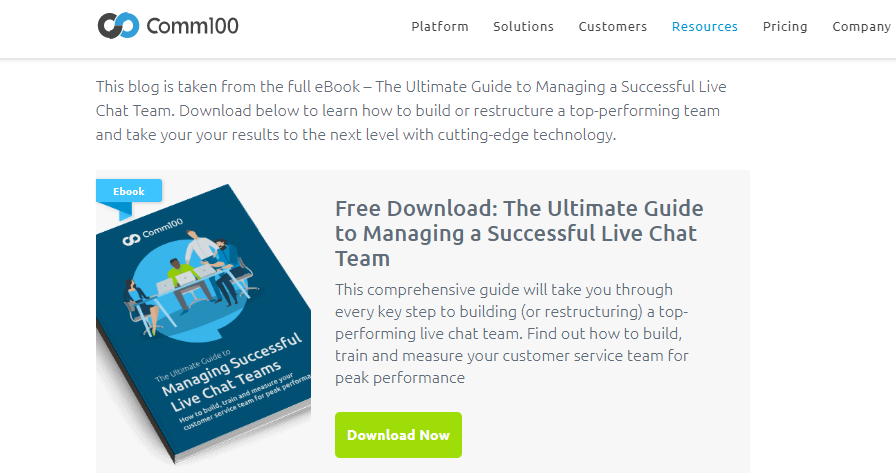 This is a perfect example of how to design your blog post pages and generate interested leads for your business.
Note that similar CTAs may appear throughout your blog post too. Not all users scroll down till the end, so you can try to convert them right during their read.
3. Writing without SEO in mind
SEO is not only about keywords but the process starts with determining how people search for solutions.
First, decide on the target keyword that you plan to rank for. Continue with finding 3-4 more keywords that are relevant to the context and have some search volume.
Don't forget to divide your blog post into smaller sections and add heading tags. Write a unique meta description, optimize your title tag and the URL before hitting the Publish button.
Not following these rules will make it harder for your visitors to find your content. Though there are other ways to drive traffic to your blog, organic search remains the top channel for traffic generation. In the end, you run a blog and business for your visitors, not just because, right?
4. Not having a permanent, recognizable writing style
You have probably noticed that when we write blog posts for you, we use "we" rather than "I". We use a conversational tone and address the reader with "you". All these nuances are part of our blogging style that is used on a permanent basis.
You should define a similar writing style for your blog as well. Answer questions like "Should we use formal or conversational language?", "Should we add fun phrases to our posts?", etc.
Having a clear style helps you remain within the scope of your brand guidelines. You might be hiring different writers and all of them should follow the same style.
5. Not adding visual elements to blog posts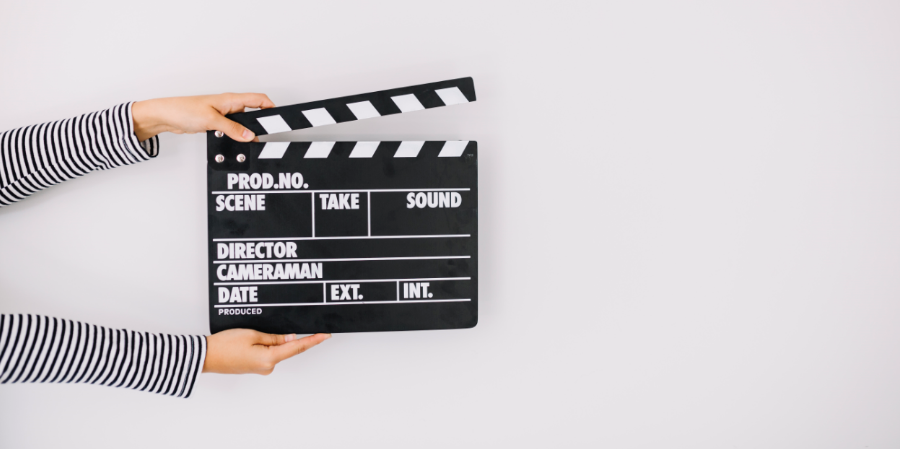 Well, it's more than clear than creating text-based content is the main philosophy of blogging. But you can lose the reader's attention right off the bat if visual elements don't support your text.
According to PixelRockstar, a good ratio for adding images to blog posts is one image per 350 words.
Infographics, screenshots, even memes are great ways to diversify image types and make your blog posts more visually appealing.
You can even consider adding links to some Youtube videos that will again engage your readers and keep them longer on your site, as well as create eye catching graphics with free overlay tools such as these free sunflower SVG creatives!
6. Creating generic, poor headlines

According to TechJury, there are +1 billion websites worldwide and 4.4 million blog posts had been published only in March 2019. If you had a chance to appear in front of a user, that's already a big achievement. But if the user didn't like your headline and didn't open the post, you lost the chance to convert him/her.
Some tips for writing great headlines include:
1. Asking a question, picking curiosity (Why isn't [your checkout page converting?])
2. Educating on something (X ways to [decrease shopping cart abandonment],
3. Attracting with little-known hacks (10 home design hacks that a few people are using)
4. Promising an outcome (How to [ensure 200 free-trial signups for your software every day?])
5. Challenging the reader (Are you making these mistakes [while driving?])
7. Writing "heavy" texts and not improving readability

Do you pay attention to your sentence and paragraph length? Are you using passive voice too frequently throughout the text?
You may be expressing the greatest ideas and sharing the best tips on your blog. But if the text is hard to consume and you aren't allowing enough space between lines, you're definitely hurting the UX.
Yoast SEO is your go-to plugin (if you are using WordPress) in terms of improving readability and avoiding one of the most common blogging mistakes.
As you can understand from the suggestions below, your sentences should be 20 words max, your sections 300 words max, etc.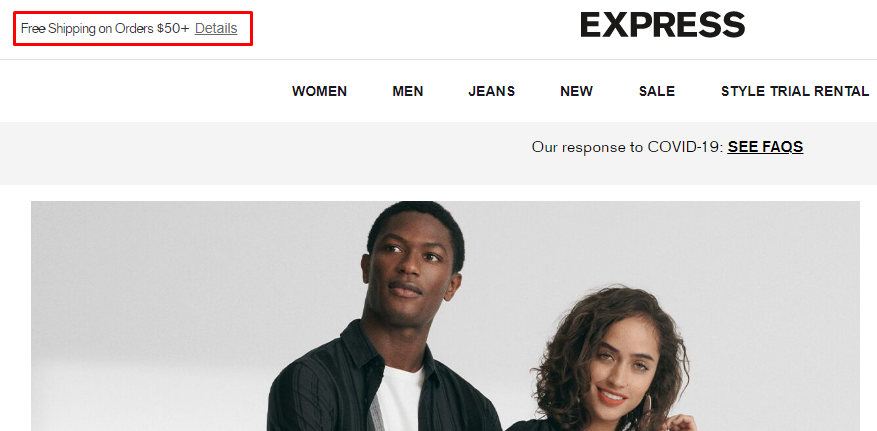 Avoid common blogging mistakes with the Andava team
Do you already run a blog or are you planning to start one? The Andava team can produce search engine optimized content for your blog on a consistent basis while you are managing your team and communicating with your clients.
Send us your message and let us bring targeted, qualified visitors to your website.