Everyone knows that SEO success isn't visible overnight and it takes months of daily efforts to see results. However, you can pay close attention to a few critical SEO metrics to track your gradual, step by step success. The 6 SEO reporting metrics we offer you to track include but are not limited to:
Website authority
Average organic CTR
Organic traffic percentage and percentage of branded queries
Number of Referring Domains
Target Keywords Rankings
Speed Performance score
If you want to know why they are important, why to track them at all, and how to do it, keep reading!
6 SEO metrics that matter to your overall SEO success
#1 Website authority
Website authority is measured by multiple metrics, primarily DA and DR.
DA is a score developed by Moz and shows how high-quality the website is and consequently how well it will rank on search engines.
DR is a score developed by Ahrefs and shows how strong your website's backlink profile is. Both DA and DR are expressed on a 100-point scale.
How high your DA and DR should be to consider it success and which of these metrics is more important? Well, we can say from experience that Domain Authority is a more popular metric among marketers and any score above 30 is usually enough to regard the site authoritative.
Writers and editors are sometimes skeptical about linking to websites with less than 25-30 DA score. That's why this score matters to inspire trust and win higher spots in search results.
To increase your website's DA, you should focus on improving the technical and contextual aspects of your websites. Get rid of the most common SEO problems and you might shorten your way to a high DA.
#2 Average organic CTR
Average organic CTR shows how many searchers clicked your website out of those who saw your website in search results.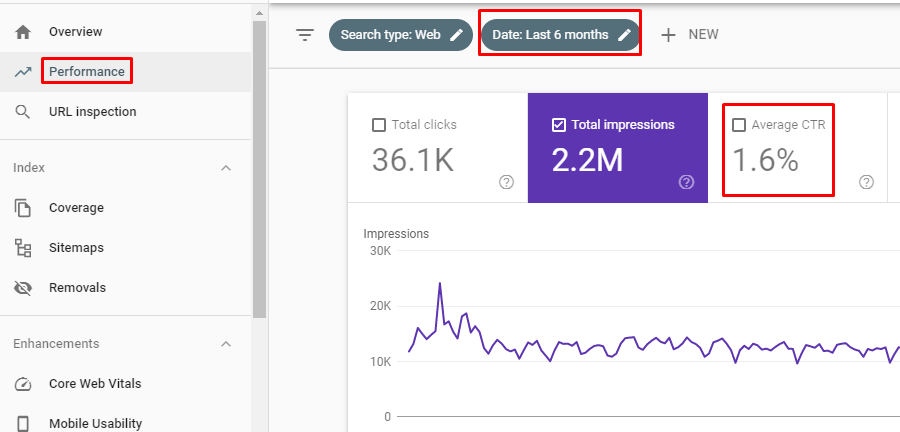 To get access to that data, you should simply go to your Google Search Console account, click the Performance tab, and set a date range. If your average CTR is below 1-2%, you should improve your headlines, meta descriptions, and pick better keywords.
#3 Organic traffic percentage
It's clear that search engines aren't your only channels to ensure traffic. However, it's a well-known fact that organic search is responsible for more than 50% of overall website traffic. And if you know what percentage of your traffic comes from organic search, you can evaluate the effectiveness of your SEO activities.
To understand it, you can use your Google Analytics account and follow a few simple steps. Under the Reports tab, click Acquisition > All traffic > Channels > Organic traffic.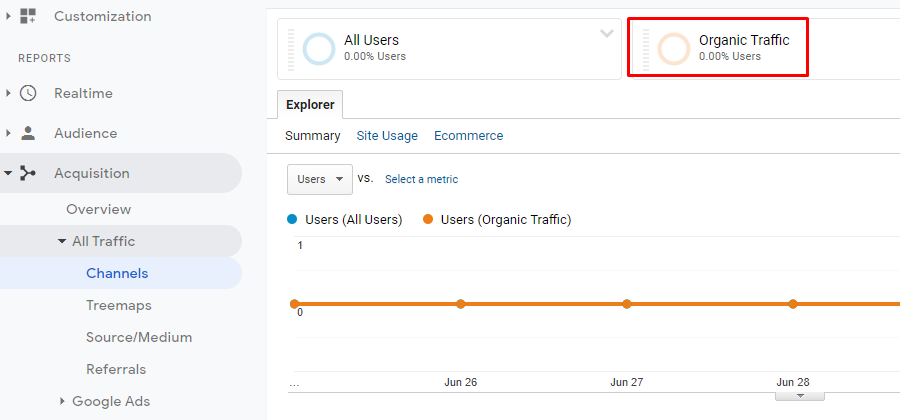 If you don't see Organic traffic among the segments, it means you haven't added it yet or have removed it after adding. Thus, an Add segment button will be available next to All users. Click it, choose Organic traffic, and click Apply.
There are competitive industries such as law and medical practices where driving organic traffic is not easy. So if organic search ensures only a small percentage of your traffic, you may think of running some search ads while you work on your long-term SEO goals.
#4 Number of backlinks
Backlinks are an important SEO metric because more backlinks usually result in higher organic positions.
According to Backlinko, the #1 result in Google has an average of 3.8x more backlinks than positions #2-#10. But this data still doesn't tell us how many links you should build for your newly published page to beat competitors. So how to find that magic number?
You should type your target keyword in the Google search tab and analyze how many backlinks on average the top 10 results have.
Based on it, you should start building links and track how the increase in the number of backlinks affects your positions.
#5 Keyword position
You will be targeting hundreds of keywords on your blog posts and pillar pages but there are a few ones that are the most critical to your business.
For example, if you are a law firm in New York, you might be writing on DUIs, car accidents, etc but your main keywords will be "best law firm in new york" and "hire a law firm in new york". And the higher you rank for those certain keywords, the higher your chances of getting qualified visitors organically.
Number of rank tracking tools allow you to add keywords, choose a location, and the search engine. Here's an example below.
As you know, your website will rank differently for the same keywords if you change the location. So after adding your keywords, add which locations and which search engines matter to you most.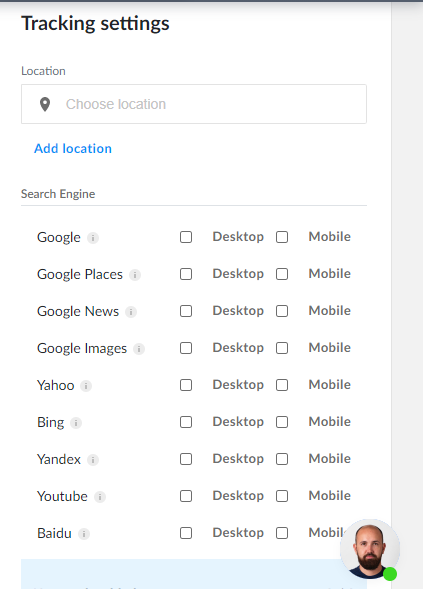 After choosing all the parameters, you will see a list similar to the one on the screenshot below: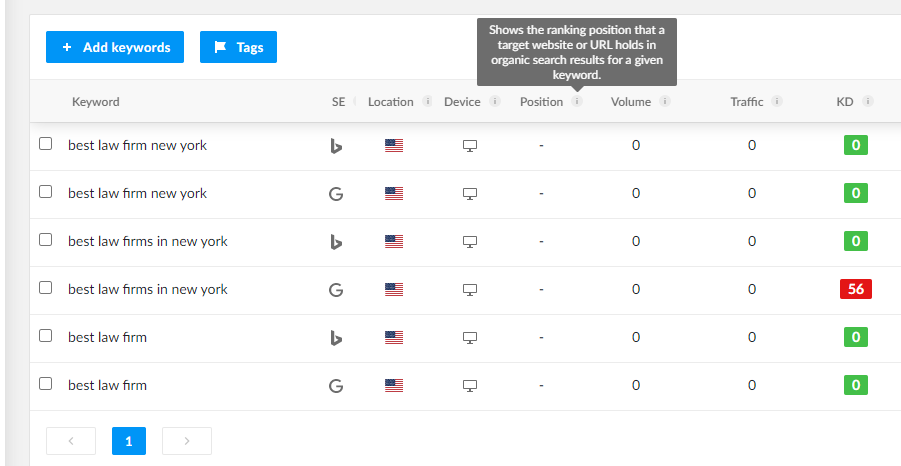 You can conduct similar monitoring activities from time to time to check whether your keyword position has dropped or increased.
#6 Lighthouse Performance Score
As you can see from the screenshot below, Google calculates your Lighthouse Performance score on a 100-point scale. The score helps you identify and fix technical SEO issues that affect your overall website performance and user experience.
For example, the free tool will recommend you remove unused CSS, avoid multiple page redirects, properly size images, etc. These factors don't affect your organic rankings directly but if fixed, they will significantly improve your website quality.
As you can see on the screenshot above, any score between 0 and 49 is low, any score between 50 and 89 is average, and any score between 90 and 100 is good. Note that the score may be different for desktop and mobile devices and the score for mobile is usually lower.
Measure and celebrate your SEO success metrics with the Andava team
SEO metrics aren't limited to the ones mentioned above. You might be interested in tracking a more advanced metric such as organic traffic conversion rate as well as more easily measurable metrics such as bounce rate or dwell time.
Contact the Andava team for a free audit and you will get personalized recommendations on
whether your website is search engine optimized or not,
whether you rank for your targeted keywords,
what steps you should follow to maximize your SEO success and measure it effectively.