When you look for off-page SEO techniques for eCommerce websites, you come across with statements like
"Do guest blogging",
"Do broken link building",
"Leave comments under blog posts with a link to your website".
These are general tips that specialists may offer as part any business' link building strategy.
Yes, off-page SEO is mainly about building links. But how you build links for a portfolio or an agency website is one thing, how you build them for an online store may be a bit different.
Today we are going to discuss off-page SEO, especially link building techniques that are typical of eCommerce businesses.
Of course, we are not going to neglect tactics that other businesses can leverage as well. But even in similar cases we are going to bring eCommerce-related examples and make sure you don't say this is another article with same old advice.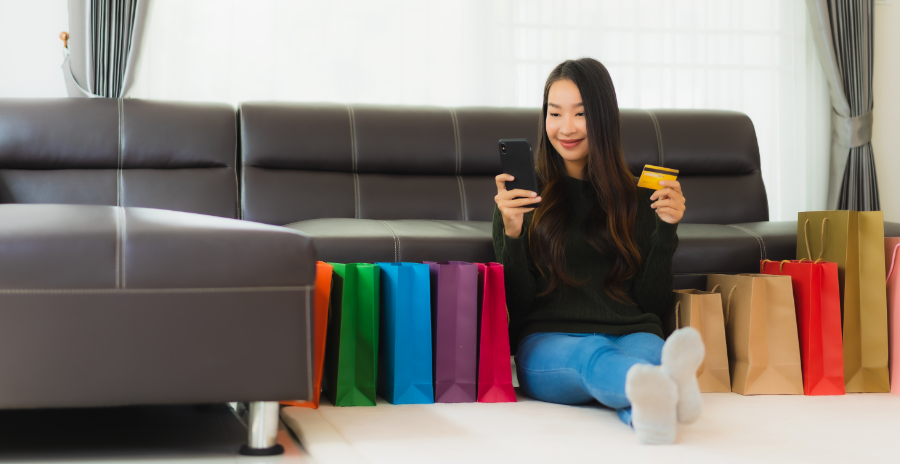 1. Add your promo codes to coupon websites
Offering promo codes helps not only motivate visitors and increase sales but even get a backlink. Hundreds of coupon websites are looking for fresh and cool deals and many of them are ready to link back to your online store. RetailMeNot is one of the examples. You go to the bottom of the homepage and submit your coupon.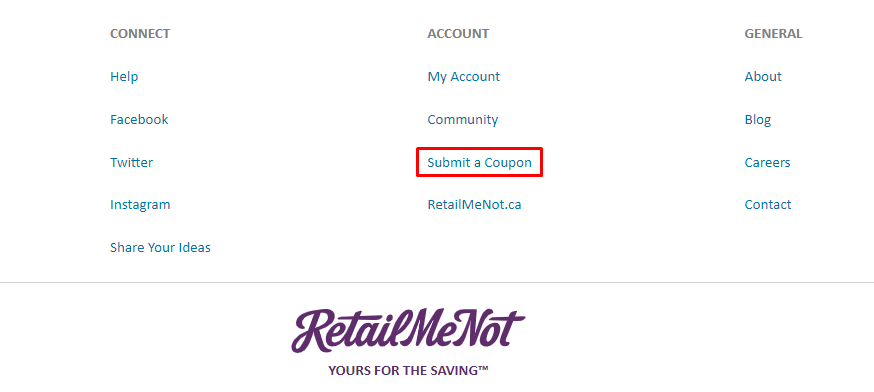 Promo codes and deals enjoy popularity especially during certain holidays, e.g. Black Friday, Cyber Monday, Christmas, Mother's Day, etc.
Blackfriday is another website that features online stores and their special offers. Here they disclose how you can reach them out for partnership.
2. Feature your online store in the lists of TOP/BEST
It's hard to guess what products you are selling but there are definitely relevant listicles where one of the mentioned online stores can be yours.
For example, in one listicle Shillington Education is writing about "22 Awesome Online Shops for Stationery Addicts". BlogTo is writing about "The top 10 online stores for home decor in Toronto."
Long story short, you should find similar articles, make sure they are relevant to your industry/location and reach out to the company. Ask them whether it's possible to feature your store with a backlink and see what it takes to make it happen.
3. Send free samples to influencers and expect links
Emily Souydalay, an SEO analyst from PixelCutLabs says one of the best ways to get links is sending your products for free to influencers in your industry. In exchange, you can ask for a product review with a backlink to your online store.
However, it's important to contact influencers who run sites with a high DA (domain authority).
4. Get listed on consumer review websites
Appearing on consumer review websites means you should be ready both for negative and positive, objective and subjective reviews. And it's also a chance to get backlinks from those same review sites that are high-quality and will pass authority to your website.
You can get listed on big sites like Yelp, Trustpilot or Reviews.io that cover many industries and categories. There are also sites that are designed for product reviews specifically. One of them is Influenster.
5. Monitor journalist/blogger requests
Journalists and bloggers are hungry for authentic and interesting pitches. Here's how this relationship works: the author publishes a request and waits for answers from sources. She may ask to share Black Friday deals, send comments on a certain topic, describe campaign on X occasion, etc.
You never know what stories authors are looking for until you open the query and read the details. When you send an answer, you have big chances of getting featured (and linked) on the publication she is writing for.
You can find similar requests through HARO, SourceBottle, Facebook groups, PR networks.
6. Get listed on your suppliers website
Brogan Renshaw, Director at Firewire Digital recommends getting listed on suppliers websites. Most suppliers have a section on their website where they link out to companies that sell their products. This is the perfect easy opportunity to get a link to your website.
You should take the time to contact each of your suppliers and ensure a link. Depending on how many suppliers your eCommerce business stocks, this can be anywhere from 1 or 2 links to dozens of backlinks to your website.
7. Answer questions on Quora, Yahoo
Answering questions on Quora and Yahoo doesn't depend on third-party authors and website owners. It's you who should find relevant questions on these Q&A forums and write answers, not forgetting to add a backlink to your website.
Let's look at an example on Quora. People are trying to figure out where to buy jewelry online and turn to the Quora community.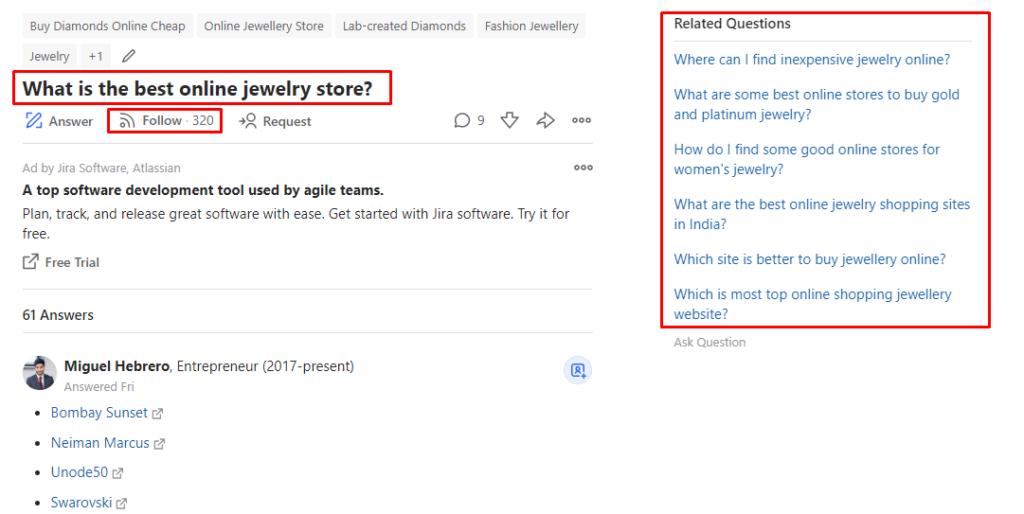 Type your product name + online store (e.g. home decor online store) in the search field and see what questions people ask. Your answers should be more informative and less promotional and disclose your affiliation with the company.
8. Start a Youtube channel
A Youtube channel can play a huge role in an eCommerce marketing strategy, including being one of off-page SEO techniques for eCommerce website.
What you can do is add links to your website in the description of every video you upload to Youtube. Thus, you will ensure both traffic and high-quality backlinks to your website.
You can direct users not immediately to your product pages but your blog posts, category pages, etc.
9. Drive engagement on social media
Though high engagement on your social media accounts will not directly affect your Google rankings, it's one of the top ranking factors for Bing.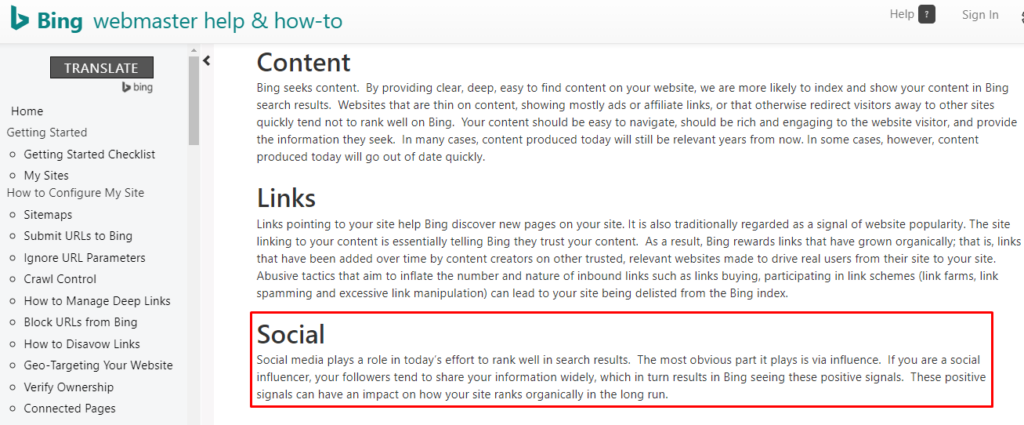 According to Statista, only 5.53% of searches worldwide are conducted on Bing. But it equals millions of monthly searches that can result in quality traffic.
So if you want to improve your rankings not only on Google but Bing as well, follow ways for boosting your social media engagement.
Final thoughts: Off-page SEO for eCommerce takes time, effort, and concentration
Building links for your online store is time-requiring and can't be done in a single day.
Moreover, it's an ongoing process because fresh links and the number of unique domains pointing to your website make your online store more trustworthy in the eyes of search engines.
SEO tools for eCommerce sites (e.g. Alexa) will help you do an SEO analysis and check your backlinks.
If you want a professional team to deal with your on and off-page SEO, contact Andava's SEO team and let's discuss your goals!