Should we start with some Facebook Messenger marketing stats?
Messenger is the second most popular messaging app after WhatsApp with 1.3 billion monthly active users worldwide. And users aged between 25 and 34 account for about 25% of that user base. So if you target customers from Generation Y (or Millenials), as a digital marketer Facebook Messenger is something you should take a closer look at.
And what if we add that Messenger drives up to 80% open rate and 20% click-through rate? To compare, Facebook, Instagram, LinkedIn show your organic posts only to 10% of your followers. That percentage won't increase if your followers aren't engaging with your content.
Email marketing stats as well don't seem exciting. The email open and CTR continue to drop, with the average open rate being below 20% and the average CTR being below 3%.
There's much more that's going to get you excited about Facebook Messenger marketing. Keep reading and let's discover how you can make it part of your digital marketing strategy by hiring a Messenger marketing agency or a dedicated in-house specialist.
5 things you can do through Facebook Messenger for Marketing
#1 Generate leads
Facebook profiles are here to replace email addresses and phone numbers that lead used to share with businesses.
With Facebook Messenger marketing, communication is quicker, more convenient, and all that is required is an internet connection.
#2 Send event Messenger reminders, confirmations, and updates
If you are trying to reduce the percentage of no-shows for your online course, webinar or demo, Facebook Messenger marketing can become a great assistant.
Send a short automated reminder 30-1 hour before the event and you will be able to reduce the number of no-shows.
As a digital marketer, Facebook Messenger will become handy when your event gets canceled or postponed due to some reason.
Facebook Messenger reminders work for physical appointments as well, including appointments at a beauty salon, dental clinic, etc.
#3 Send discount announcements and business updates
New collection? Software lifetime deals? Big discounts towards holidays? Messenger will become the perfect environment to share your offers.
Besides, sometimes businesses need to share unexpected and urgent updates. For example, when COVID-19 lockdown started, many businesses contacted their contacts via Messenger to let them know they would be closed for some time.
#4 Support existing customers
79% of consumers prefer live chats because they offer instant responses and for 41% of consumers, live chat is a preferred channel for contacting support teams (source).
Whether you are an online store or a SaaS company, Messenger is a quick way to fix issues or at least let the customer know their issue is under observation.
#5 Educate, build relations, and nurture
Visitors used to subscribe to email lists and leave their contact details to get weekly/daily tips from businesses. But this form of contact generation doesn't have the same effect as it used to.
Now not many businesses use Facebook Messenger marketing to send chat drip campaigns, newsletters, new blog posts, and other stuff.
You can make use of this app and will definitely stand out from the competition.
How to get started with Facebook Messenger marketing benefits?
Facebook Messenger marketing stats say that 98% of your visitors won't leave any contact details on your website. So, a Messenger chat is a great chance to discover your visitor's Facebook profile and further connect with him/her.
After the lead is generated, you need to work on turning him/her into a returning visitor and ultimately customer.
Installing a Facebook Messenger bot chat widget on your website is easy. WordPress users can run a quick search on wordpress.org, choose from available plugins, and add it to their website.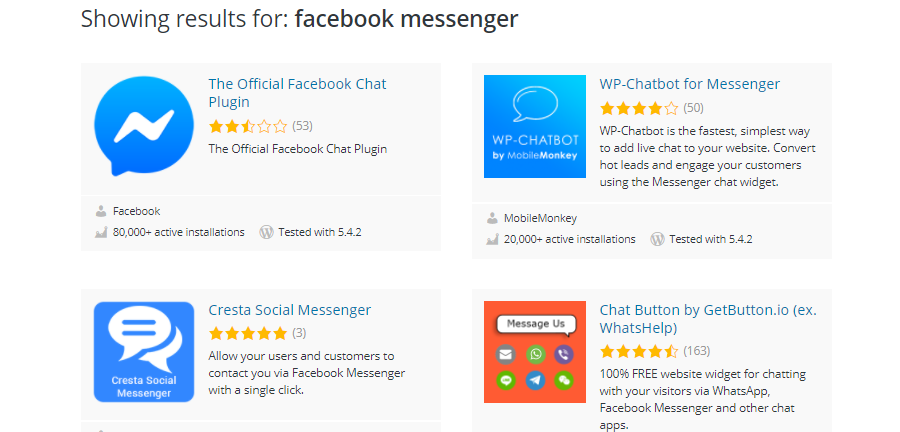 Once visitors land on your website, they will see something like this: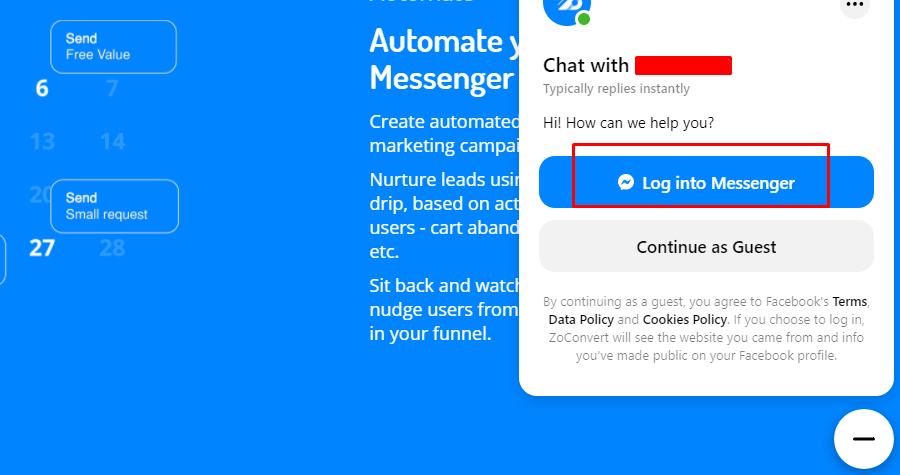 Log into Messenger allows them to send you a message via the app itself, not via your chat window. As opposed to messages sent via chat, messages sent via Messenger are easily saved in the user's smartphone and they can have a look at them again later.
To have quality conversations with your users, you can make use of
greetings,
saved replies,
instant replies.
They allow you to save time and answer frequently asked questions very quickly.
Another way for generating Messenger leads is via ads. Facebook allows you to run ads on Messenger and the ad looks like another chat in your Messenger list. When the user clicks View more, "Send message", you already have him/her in your contact list.
The first message the user usually sees afterwards is the following: "Hi, [your first name]. Please let us know how we can help you."
You can also add pre-written questions to engage the users and keep the conversation going. Here's an example with predefined questions from Burger Command: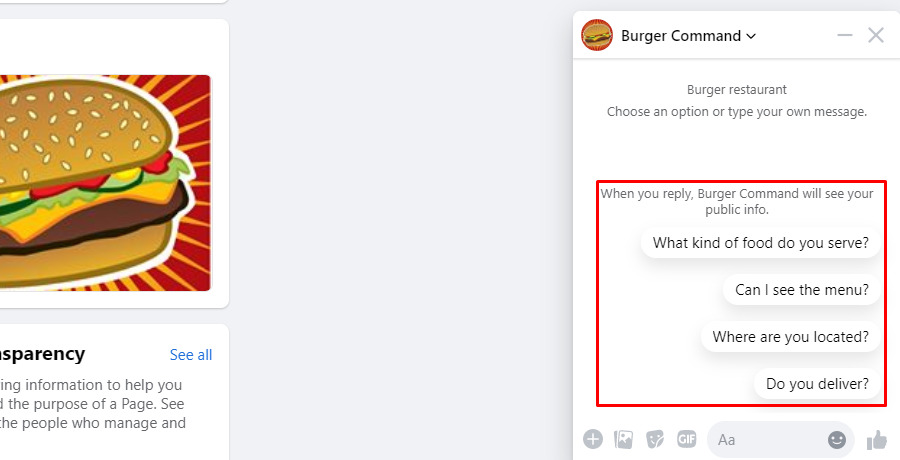 However, Messenger isn't limited to a standard format of adding questions.
Here's what Sephora did. They allow you to choose from two options – Find a store and Chat with an agent. When you click Find a store, it automatically asks you what city/zip code you try to find a store.
You as well can add multiple options to your Messenger bot and insert some images to make the window more visually appealing.
To organize all these sequences and automate the process, all you need is a Messenger bot. Building a similar bot is done in a few minutes and there are many tools in the market that will help you with this task. Moreover, building and maintaining a bot can be free.
For example, if you have less than 500 contacts in your Messenger list, you can use a Messenger bot builder for free.
"Learn more" is another CTA that you can use instead of "Send message". In this case, the user will be redirected to your website (e.g. landing page), not start a conversation within Messenger. This option is for businesses that want to increase traffic to their website.
Looking for a Messenger marketing agency?
Are you looking for a reliable Facebook Messenger agency? Andava is a full-service digital marketing agency with social media marketing being one of our most popular services.
Contact us for a free SMM audit and we will help you handle both the technical and strategic parts of Facebook Messenger marketing. We will help you
run targeted and well-performing ads on Messenger,
build a Messenger bot with automated features,
make the most out of this popular, free app.