Chatbots have been one of the hottest and most discussed marketing trends in recent years. As they offer a ton of benefits and are affordable, businesses of all sizes can integrate chatbots into their marketing strategy.
But let's get to this step by step:
What are chatbots?

Are they better than emails?

What benefits do they provide to online users?
What is chatbot marketing?
Chatbots are "digital" humans that allow real humans to communicate with them in written or spoken forms. Consequently, chatbot marketing is leveraging "digital" humans to answer real-life queries, support customers, and generate new leads. Bots come in two main types, menu-based and AI-based. Menu-based chatbots offer multiple options and visitors can click any of them to start a conversation. Here's an example: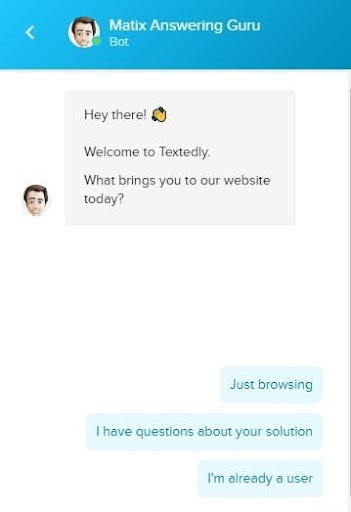 AI-based bots are more intelligent and can answer visitors' written or spoken questions without initially installed menu options. 
Chatbot vs email marketing: Is the difference obvious?
You might say that for some businesses chatbots are more relevant, while for others email will do a better job. That's totally right. But there are a few differences that any business owner should be aware of before prioritizing this or that communication method:
Unlike spam emails that end up in our inboxes or spam folders, spam chatbot messages don't exist. People interact with a bot when they want to and it increases the trust level.

It may take up to 24 hours to address an email support ticket that your customer submitted but with chatbots, people get immediate replies. 

The typical CTR for bots is 15-60%, while for emails, that percentage ranges only from 5-10%. Chatbots are winners when it comes to open rates as well (90% vs 22%) (Source: TitaniusBots).

Also, emails aren't convenient for quick and short messages, while chatbots are ideal for similar cases.
What are the benefits of chatbots?
Now that you know the main differences between chatbots and emails, let's start exploring the chatbot marketing benefits more closely. 
1. Personalize the customer journey
There are multiple ways personalization takes the stage in chatbot marketing.
First, your bot saves the customer profile and conversation so agents can continue the conversations where they left off. In this case, customers don't have to provide the same personal information every time they contact you and agents will be able to help the customers based on the conversation history.
Second, bots can apply cross-selling and up-selling techniques based on the customer's individual preferences and interactions.
2. Collect customer data and analyze It
You should connect your chatbot with relevant applications or systems from where bots will take data and generate responses. 
Based on the information at hand and questions/answers by users, chatbots will recommend products or guide users to solve a problem. 
As you track the conversations between the bot and user, you will be able to analyze data and make your chatbot even smarter.
3. Increase customer engagement
People aren't always confident contacting a sales rep or booking a call to find answers to their questions. On the other hand, sending emails and social media messages takes time to get replies (you know, time zones, overloaded support employees, etc). Or sometimes people have a lot of questions and think that asking too many questions isn't nice.  
Providing quick responses and handling customer queries fast are two essential chatbot marketing benefits. Besides, visitors can ask as many questions as they have without feeling uncomfortable. That's how chatbots increase visitor engagement and encourage them to take action. 
4. Generate, qualify, and nurture Leads
Before starting a conversation, chatbots ask visitors to submit a short form – name, email address, or phone number. That's how visitors become leads and enter the business's sales funnel. 
When the conversation with a bot is over, the marketing department can automatically send an email campaign and nurture the lead. Based on the conversation history, you should move the leads to the right segments and send them relevant offers or reminders.
5. Provide 24/7 support
And what are the chatbot marketing benefits over employees? 
Chatbots never ask for vacations or day-offs, nor they have fixed work hours. They work and provide around-the-clock support as long as your system is set up smoothly. 
This allows you to connect with potential customers regardless of time zones and even outside business hours. What could be better for a business that serves customers globally and wants to be responsive 7 days a week? 
6. Improve your ROI
Chatbots can be your best assistants when it comes to cross-selling, up-selling, and reminding about abandoned shopping carts. Every time your customers complete a purchase after the bot notification, you can thank your chatbot for an increased ROI.
In addition, chatbots can complete basic services such as activating new debit cards, setting up appointments, etc.
Bots also reduce operational costs which leads to an increased ROI. More details about it under point #9.
7. Meet customer expectations
Customers want to get answers at their preferred time, on their preferred channel, and they want the response quality to meet their expectations. With a bot, you can serve dozens of customers at once without delays in response time or sacrificing response quality. Meeting customer expectations is one of the key chatbot marketing benefits. 
To make it possible, you need to avoid some common chatbot pitfalls such as endless loops and misunderstandings. If the user's query isn't in the decision tree and your chatbot can't recognize it, you'd better assign the conversation to a real agent. Or if your bot is AI-powered, you need to constantly train it to improve its understanding of visitor queries. If you have no experience with training and using a bot, contact Andava to learn how to use chatbots for marketing. 
8. Build brand loyalty
According to a study by Morning Consult, reliability is the most important factor that drives loyalty. While "the quality is high given the price" is the second most important factor, the third one is "positive interactions with the customer service team." As chatbots are getting involved more and more in the customer service process, they also become responsible for customer loyalty.
9. Reduce customer service costs
According to Indeed, the average salary for a support rep is around $14 hourly in the US. In addition to paying salaries, you should also pay commissions, bonuses, offer employee benefits, etc. Not to mention that one support rep can communicate with up to 4-5 visitors at a time, while the opportunities of a bot are endless.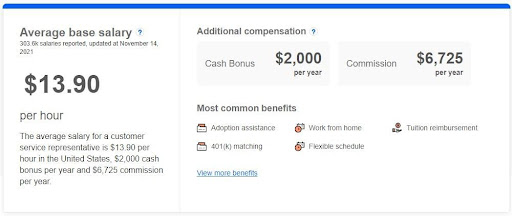 In contrast to this, you can use a chatbot solution that will cost you starting from 0$ monthly. This price will change depending on the
number of automessages,

number of popups,

customizations options,

number of monthly chats,

reporting and analytics level,

available integrations,

and other features that different chatbot solutions offer.
10. Connect with Messenger users
You can find bots that integrate with Facebook and allow you to reach 1.3 billion Messenger users. In this case, the conversations start within Messenger and are saved in your potential customer's inbox for future reference. 
Read: Facebook Messenger Marketing: Killing a Few Birds with One Stone
Create an efficient chatbot strategy with Andava
Andava – a chatbot marketing agency – is a reliable and strategic partner for you if your business plans to get started with chatbot marketing. Here are the services that we offer to companies of all sizes:
chatbot software recommendation,

chatbot setup and development,

chatbot support and maintenance.