Last year 1,029,528 new sellers joined Amazon globally, that is, 2975 new Amazon sellers per day. No matter what type of business you do, the competition at Amazon is the highest, and you have to find your way around. To start generating revenue, you need to advertise on Amazon, keep a close eye on your competitors, and monitor their campaigns precisely. You have to track their methods, listings, pricing, reviews, sales, etc.
The main question here is, is selling at Amazon worth the effort? According to Forbes, Amazon has a 34.5% share of the U.S. e-commerce market, and "despite having to spend $4 billion-plus in coronavirus-related spending, reported much-better-than-expected second-quarter profit and sales." The bottom line is, yes, it is worth the effort.
Whether you are a new Amazon seller or an experienced seller doing it for a while already, surviving the competition requires many strategic tactics and hard work. Who's better to learn from than Jeff Bezos, the man behind the legend himself: "one of the only ways to get out of a tight box is to invent your way out."
This article will help you understand how to advertise on Amazon. It will also introduce the tools and practical tips to boost your marketing performance, find your way around the tight competition, understand Amazon PPC tips, and optimize your Amazon campaigns for better results. 
1. Use Sponsored Brands to build awareness


Amazon enables sellers to become part of the customer's shopping journey. Customers will find your brand when your ads appear with relevant shopping results. It's an opportunity to showcase your listings for potentially interested buyers. Amazon's sponsored brands ads are highly efficient compared to other platforms. According to Feedvisor, "A majority of brands selling on Amazon (59%) said that the platform generates their highest return on media spend, followed by Google (22%) and paid social (17%)."
When you advertise on Amazon using sponsored brands, it enables creating engaging ads with videos and images to get people's attention. Whether customers will buy from your brand or not, remember that a sales process starts with marketing. Therefore, it's recommended to begin leveraging Amazon to build brand awareness for future listings. 
2. Use category-specific targeting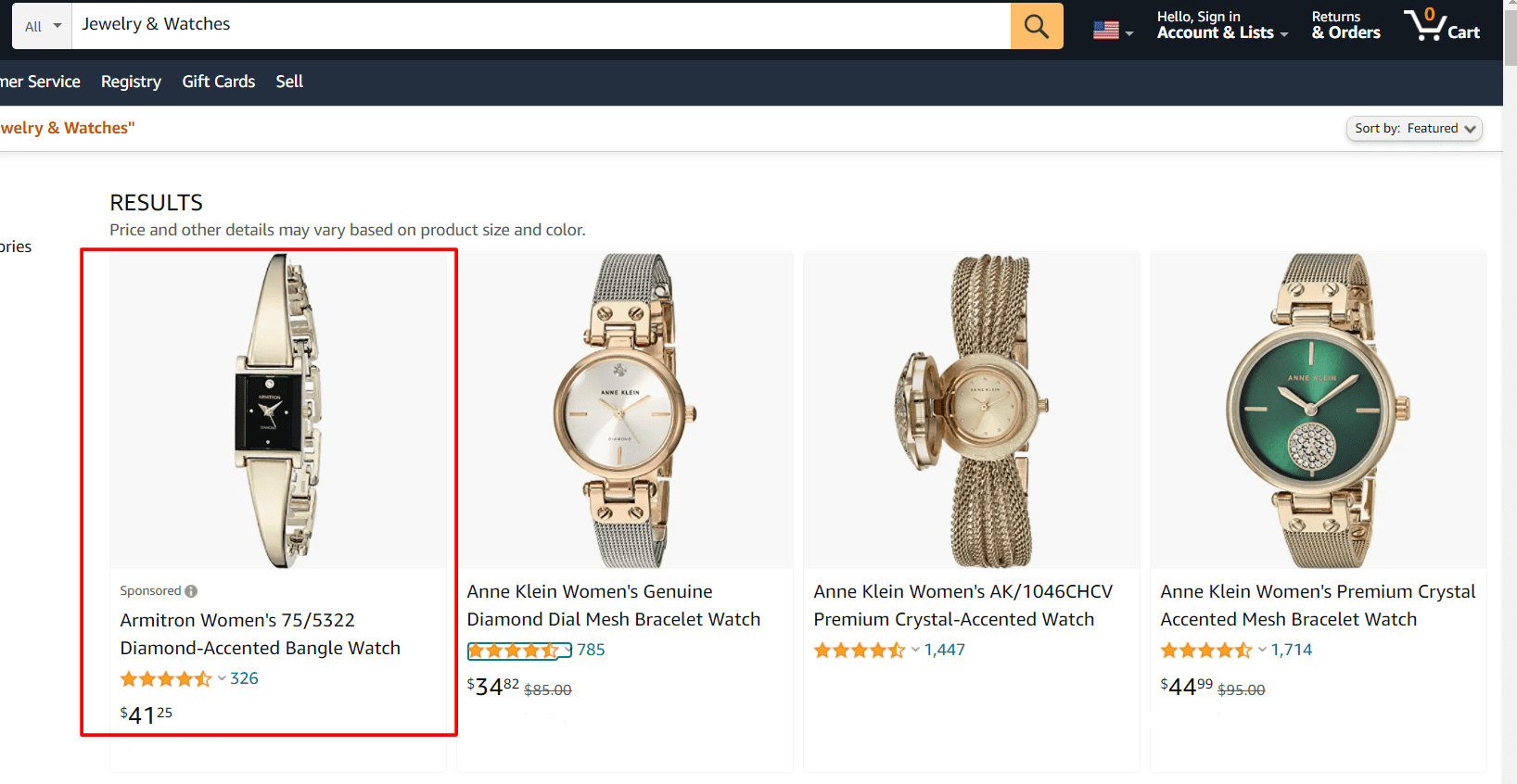 Amazon allows promoting products in different ways. Sellers can choose specific categories, products, ratings, prices, and other metrics to decide where their ads appear for potential customers. Amazon visitors might convert into buyers smoothly. "In our experience, Amazon's sponsored products are arguably the most important placements for advertisers looking to increase search performance," says Forbes.
Place ads differently under customer reviews, feature them on the product's detail pages, or many other options Amazon would suggest. When selling something new and you want to advertise on Amazon, it's a great idea to promote listings with category-specific targeting because it will: 
Provide the exposure required to spread brand awareness.

When you target categories with high traffic, you can generate traffic to your listings.

If your target category is expensive, choose a relevant category and target their audience; that way, potential customers will subconsciously connect your brand with these categories.
3. Set a flexible ACoS goal
First of all, let's define what an ACoS is. It stands for Advertising Cost of Sales, and it refers to the amount of spending needed to generate $1 in revenue on Amazon. It is a great metric to measure the campaign effectiveness because it helps track spending compared to revenue. After all, you don't want to spend 2$ to generate $1 in revenue.
The lower your ACoS, the better your ad is performing, and the higher it goes, it signals something is incorrect and needs to be fixed with your campaign. It could be targeting, bidding, pricing, or something else. High ACoS is due to one of these reasons:
Low conversion rate if you're getting many clicks but few sales.

High CPC "cost per click" to sale price ratio for your listings.
Flexibility with ACoS is essential to benefit the most. For new launches, increase the ACoS temporarily to generate sales, but you need to lower it reasonably for best-selling products. In other words, when the demand is high, reduce your ACoS, and when the supply is high, increase it. Amazon is a market, and to successfully advertise on Amazon, utilize the supply and demand market methods appropriately.
4. Use long-tail and negative keywords

According to Yost, long-tail keywords are "keywords or keyphrases that are more specific – and usually longer – than more commonly used keywords." There is a misunderstanding about long-tail keywords; people connect the term only with how many words a keyword has. Long-tail keywords have less search volume, and they are considered long-tail compared to the popular general-purpose keywords with very high search volumes about the same topic. 
When you advertise on Amazon, using long-tail keywords to increase the traffic to your listings is a valuable strategy. Shoppers tend to search for products using precise phrases. For example, focusing on the long-tail keyword "black strap watch with mechanical movement" is more specific than the keyword "watch." 
According to Google, negative keywords are "search terms that give you unwanted impressions." Avoiding negative keywords saves your campaign budget and raises your conversion rate. In other words, negative keywords can bring people to your listings, but they'll be looking for something you don't offer.
For example, you're running different campaigns on Amazon for kitchen gadgets, but you don't sell kitchen towels, and you don't want your campaigns to show up for people looking to buy kitchen towels. In that case, you have to exclude all possible keywords for "buying towels" to ensure no one will reach your listings via such keywords causing you to lose the CPC without generating revenue.
5. Include target keywords in product listings

Amazon monitors keywords every seller is using to generate traffic. However, when you try adding irrelevant high search volume keywords for your listings to generate traffic, it will not work the way you think. 
First, Amazon could find out about it and penalize your account.

Second, you will lose your advertising budget for non-potential buyers.

Third and most important, you will lower your ranking due to a low conversion rate.
Use relevant keywords to your industry and products, and interested buyers will find your listings on Amazon. For example, it's not good to target a buyer looking for a mobile phone with ads about leather shoes. Just because the traffic is high for mobile phones doesn't mean people would switch to buying a pair of shoes when they see your ads.
6. Run manual campaigns but test with automatic targeting
Let's start by defining the two approaches:
A manual campaign is when an Amazon seller manually handpicks the keywords and sets their bids.

Automatic targeting is when an Amazon seller sets the campaign budget, and Amazon automatically generates keywords based on different factors like the product category and description.
Each approach has its benefits, and while you can control your bids with more flexibility in manual campaigns, you can benefit from Amazon's algorithms to learn more about converting search phrases in automatic targeting. For example, Amazon can suggest long-tail keywords you'd never think about.
Beginners prefer automatic targeting, while PPC professionals prefer manual campaigns. We advise you to try both when you advertise on Amazon to leverage the platform's benefits. 
7. Set different bids based on performance and value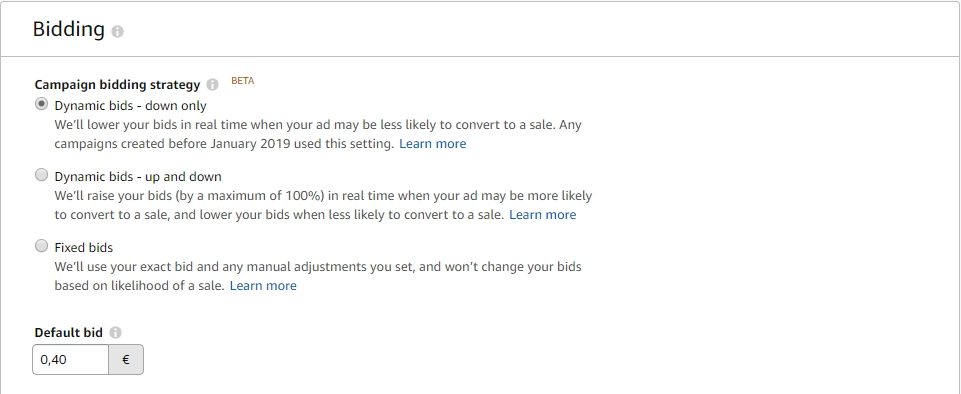 Like Google Ads bidding strategies, Amazon PPC tips might sound complicated. The concept is easy and can be broken down into simple rules. One of the biggest mistakes new Amazon sellers commit when they advertise on Amazon is not considering the basic rules of keyword bidding:
Don't use the same bid for all keywords because profit margins differ for your keywords.   

Use higher bids with keywords that have a high-profit margin.

When setting up a new campaign, raise your bids to gain search history on Amazon.

Track conversion rate, sales, profit margins, and be flexible with your bids accordingly.
8. Optimize your campaign
If you want more potential buyers to reach your listings, you should walk the extra mile and optimize your Amazon campaigns. It would help increase your product's visibility, conversion rate, and as a result revenue. Optimizing the campaign is applying changes based on measured results, which means campaign optimization is frequent. It requires keeping a close eye on all changing metrics and acting at the right time to maximize benefits.
Don't start your campaigns without a specific structure. For example, organize your campaigns based on product categories or brands to avoid repeating ads.

Group similar products and choose corresponding keywords for each group, which is better than working on each product independently. Every group of products shares similar keywords, and you can utilize that in your favor.

Track keyword performance, bids, conversion rate, sales, competitor's performance, set pricing alerts to track pricing changes for your competitors. Finally, choose the right time to apply changes to your campaign. 
Optimizing campaigns includes all previous Amazon advertising tips, and in fewer words, as Forbes describes it, the perfect campaign: test, optimize, repeat. 
Advertise on Amazon with Andava
After reading all these Amazon advertising tips, you might feel frustrated, and it's normal because you can't learn how to advertise on Amazon in a couple of minutes. However, if you want to achieve sales and join millions of sellers working on Amazon, you have to work hard to maintain a steady position in the competition.
If you don't have enough time to go through everything yourself, you can consider hiring a third party to manage your Amazon campaigns and optimize your listings. Andava has an expert team of Amazon marketers working with the latest tools to bring the best results to its clients. Every business is a unique case study. From setting up the ads to optimizing your campaigns and offering comprehensive keywords/bid research. Andava's team will customize and implement a solution based on your requirements, budget, and market status.